GMP Negotiation, Pt 1
Matt Craske
Over the past two editions of the Bay Dimension we have looked at the Preconstruction Services that can be associated with the GMP delivery method. In this edition we move on to the GMP Negotiation stage.
The following section outlines industry standard methodologies for negotiating and establishing a fair GMP that will ensure the project is completed within budget, schedule and meets all parties' objectives.
GENERAL CONDITIONS
Early during the estimating and budgeting process general conditions are often calculated as a percentage of the cost of work [COW], however this is not a very accurate approach. General conditions are not necessarily a product of the COW, but are a product of construction duration, site logistics and project complexity. Applying a detailed estimating methodology as early as possible will produce a greater level of accuracy.
Another outcome of applying a detailed estimating methodology is establishing clear understandings of what items are to be included in the COW and what is deemed to be included in the GCs overhead.
The industry range for a reasonably large project with normal complexity and duration is 6% to 9%.
SITE REQUIREMENTS
Predominantly site requirement items are included in the COW, but there are several grey areas. Defining what is to be included in COW and what is overhead as early as possible during estimating will make the GMP negotiations much easier.
CONSTRUCTION MANAGEMENT
Similar to site requirements, construction management should be evaluated by a detailed estimating methodology as soon as possible. Just like site requirements it is a product of construction duration, site logistics and project complexity. Also, similar to site requirements, it is important to define who is "chargeable" to a project and who is considered head office overhead.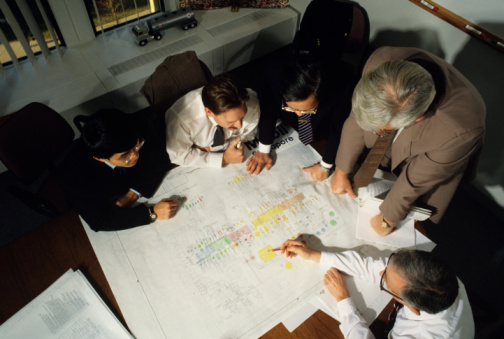 A current trend in GMP project delivery is for the construction management costs to be calculated based on a resource's W2 plus mutually agreed multiplier which is to cover benefits, burdens and profit. If this methodology is used, construction management costs are not subject to further mark-ups in terms of fee.
A more traditional approach is for the general contractor to provide a fee schedule by role. With either method it is important for the owner to have an onsite presence to verify that all construction management charges are valid.
INSURANCE AND BONDING
Insurance and bonding are products of the owner's risk strategy, current state of insurance and the quality of subcontractors. It is recommended that insurances be purchased by the owner where possible or not be subject to additional mark-ups if purchased by the general contractor.
The industry range for a medium to large size project is 2% to 4%.
FEE
Fee is calculated on the COW, so it is important to determine as early as possible what is to be included and what is not. Reducing the cost of work by having the owner purchase equipment directly is a practical method of reducing the value of COW, and therefore the fee.
The industry range for the type of project we are discussing is 2% to 4%. As the value of a project increases the fee percentage usually decreases, due to advantages of scale, leading to more efficient use of resources.
Lastly it is important to consider all the avenues a GC has to make profit when negotiating a fee. For instance, if a cost incentive has been agreed then the fee is usually lower.
In the next edition we will look at the use of cost and schedule incentives and the different types of contingencies.