Light at the End of the Tunnel?

We are seeing a fairly consistent upward trend in the stock market, and there are increasing signs that the recession is technically drawing to an end. But what does that mean for the construction industry?
Our bid index doesn't show too many encouraging signs at present: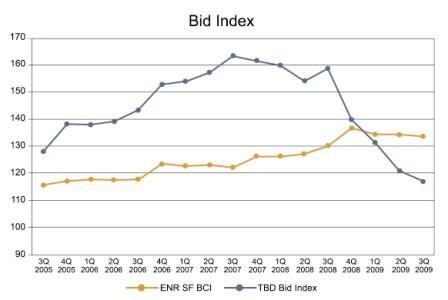 To get a gauge on how things might progress, we looked back to this newsletter's predecessor, the Hanscomb News, and observed how the recession of the 1990's progressed. That recession officially started in July 1990 and lasted for 8 months, but the effects on the construction market lasted a lot longer.
The current recession officially started in December 2007, and might well be stated as having ended around September 2009 by the time NBER gets around to declaring it over, so that means that the length of this recession will have been far longer than that of the 90's, but let us ignore that for now.
The first edition of the Hanscomb News came out in September 1990, soon after the start of the 90's recession, and it was reporting about a very competitive bidding market. The equivalent date in this recession would be February 2008, but this time around the general construction bidding market was not being hit at that point, although the housing sector certainly was.
By April 1991 it was being said that the competitive but errant bidding market of 1990 had turned into a quest for survival amongst contractors/subcontractors. Counting from the start of the two recessions, the equivalent date in this one would be August 2008, but it was early to mid-2009 that we were seeing the equivalent conditions.
In December 1992 the Hanscomb News was still reporting that the market continues to be depressed, perpetuating the fiercely competitive bidding market. The equivalent date here would be May 2010.
By November 1993 it was being reported that recovery of the construction market was proceeding at a snail's pace. That would be April 2011 counting from the start of this recession.
It wasn't until January 1996 that we were writing about steel prices rising as the construction industry comes out of recession. The equivalent date here would be June 2013. So if you think you are seeing a light at the end of the tunnel now, unfortunately it is probably only the headlights of a train coming at you. But it is possible the train will get us back into the California sunshine a bit sooner than we otherwise would.