Preconstruction Services, Part 2
Matt Craske
In the previous edition of the Bay Dimension we looked at estimating and scheduling services. Now we are going to look at some other preconstruction services that may form part of the GMP delivery method.
Site Logistics
Working out the logistics of your construction site is vital and an experienced GC can provide invaluable insight with this subject. This effort should be undertaken as early as possible and reviewed regularly. The site logistics plan feeds the estimating process, the procurement process and can be a key tool in keeping neighbors and authorities informed and happy.
Constructability Review
Another area where an experienced GC can be invaluable is through constructability reviews. Each drawing package issue should be reviewed and commented upon for any constructability issues. These comments would include availability and cost of materials selected, difficulty of installation, long lead warnings and alternative recommendations.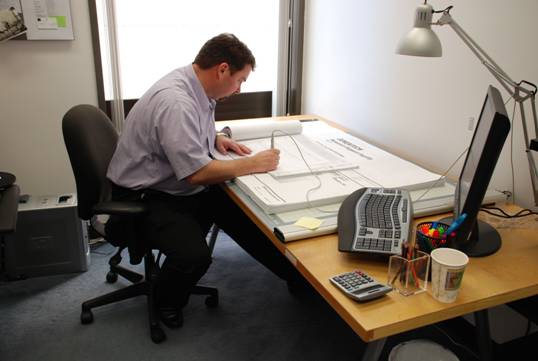 Value Engineering
Value engineering is an analytical process to ensure that the project team is delivering the right scope for the right budget. Total cost of ownership, first cost, constructability and schedule should all be evaluated during this process. It is often seen as a way to cut costs once they get out of control, but it is actually a much more effective tool when used continuously throughout design. All major design decisions should be evaluated as they are made to ensure the team has chosen the most effective way of achieving the goals of the building owner.
Risk Management
Risk management helps reduce the value and amount of change orders during construction and also helps projects to maintain budget and schedule. It has also become a preferred method of contingency calculation through Monte Carlo Analysis. Through the cross functional discussion of a project's risks and the entire project team gaining greater understanding of their effects, a mitigation plan can be created to minimize or eradicate the impact of the risks identified. It is recommended that any large or complex construction project should undertake a formal risk workshop at least once during the design process to identify, quantify and mitigate project risks. From these workshops a risk log can be created and updated monthly.
Cost Control & Monthly Reporting
When people talk about cost control and monthly reporting, they are usually referring to the activities undertaken during construction. However on larger projects these activities should also be undertaken during the design phase. For a large project the design phase can cost tens of millions of dollars, so it is important to keep track of the spend and progress each month to ensure that the design phase will be completed within budget and schedule.
Procurement
Having experienced individuals with knowledge of the local construction market to review and negotiate proposals and contracts is often neglected even on multi-million dollar projects. If a fee can be negotiated down by a fraction of a percent or the double checking of calculations discovers an error, it can save a large project millions of dollars.
Cost
Preconstruction services are not related to project value, but to the duration and level of service requested. The best way to budget for them correctly is to take the duration of design and assess the number of full time equivalents [FTE's] needed to meet the level of services requested. Percentage calculations are inaccurate.
Contracting
Preconstruction services are normally contracted on a time and materials basis [T&M] or as a lump sum [LS]. With either method it is important to be clear about the scope of work and the schedule in the RFP documentation. It is also prudent to ensure that the preconstruction activities are contracted and invoiced separately from construction activities. If a T&M approach is taken it is wise to agree with the service provider a set multiplier or rate schedule by position at time of contact.
In the next edition we will start looking at the GMP negotiation process.